Uruguay striker Luis Suarez is a controversial football player to say the least. His history of scandals on the pitch is lengthy and another chapter was added today during the FIFA World Cup 2014 in Brazil.
During the game against Italy, Suarez suddenly bit Italy's Giorgio Chiellini in the shoulder. This was the third time he bit someone during a game as he had previously bit PSV Eindhoven's Otman Bakkal and also Chelsea's Branislav Ivanovic. Both times he got lengthy bans.
Suarez was immediately mocked on Twitter by football fans. And as often happens these days, brands also try to seize the moment and piggy back on trending events. McDonald's Uruguay tweeted the following tweet tonight: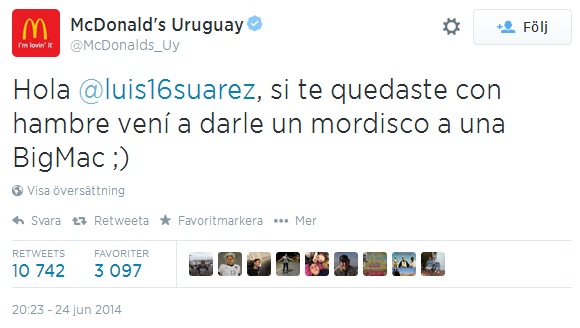 The tweet reads in English:
"Hi @luis16suarez, if you get hungry come and take a bite from a BigMac;) "
Reactions to the tweet were initially mixed but it quickly got thousands of retweets. What do you think? Genious or tacky?