Yesterday I blogged about how SAS, Emirates and SF got their brands hijacked on Instagram. Today I found two new examples of fake accounts that promise to give away gift cards in exchange for email addresses. Hundreds of Swedish Instagram users are currently giving away both email addresses and even mobile numbers on the fake accounts of Abercrombie & Fitch and coffee chain Espresso House.
Fake Abercrombie & Fitch at http://instagram.com/abercrombiesverige. The account bio says: "We are soon opening a store in Sweden! Follow the instructions in the image to get unique offers and gift cards". The image caption says that the company will give a gift card worth 1,000 SEK to all followers of the account if they add their email address in the comments.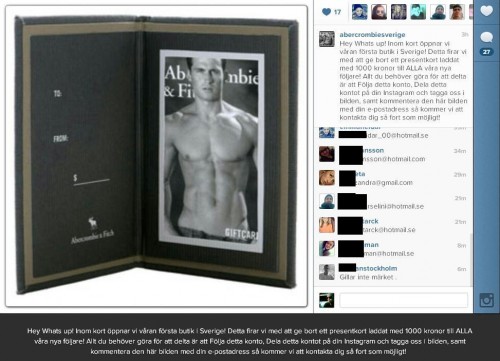 Fake Espresso House at http://instagram.com/espressohouseofficiell. The account bio says: "The first 5,000 that follow and share this account will get a gift card of 100 SEK at Espresso House".