The group stage at the FIFA World Cup 2018 in Russia is now over and tomorrow the round of 16 knockout stage will begin. Based on the current FIFA ranking, one half of this stage looks a lot more difficult than the other due to several top ranked teams being place on the same side.
On one side you have four of the five highest ranked football teams: Brazil (2), Belgium (3), Portugal (4), Argentina (5) and France (7). Also on this half are Uruguay (14), Mexico (15) and outsider Japan (61).
The somewhat "easier" half of the knock out stage includes Switzerland as the highest ranked nation (6), along with Spain (10), Denmark (12), England (also 12), Colombia (16), Croatia (20), Sweden (24) and host nation Russia (70).
Fortunately, lower ranked teams of course can beat higher ranked teams, like Mexico's surprise win over first ranked Germany. But as a fun exercise, here are the predictions for the Round of 16 based on current FIFA ranking. World Champions will be Brazil as they beat Switzerland in the final. Bronze goes to Portugal as they beat Spain.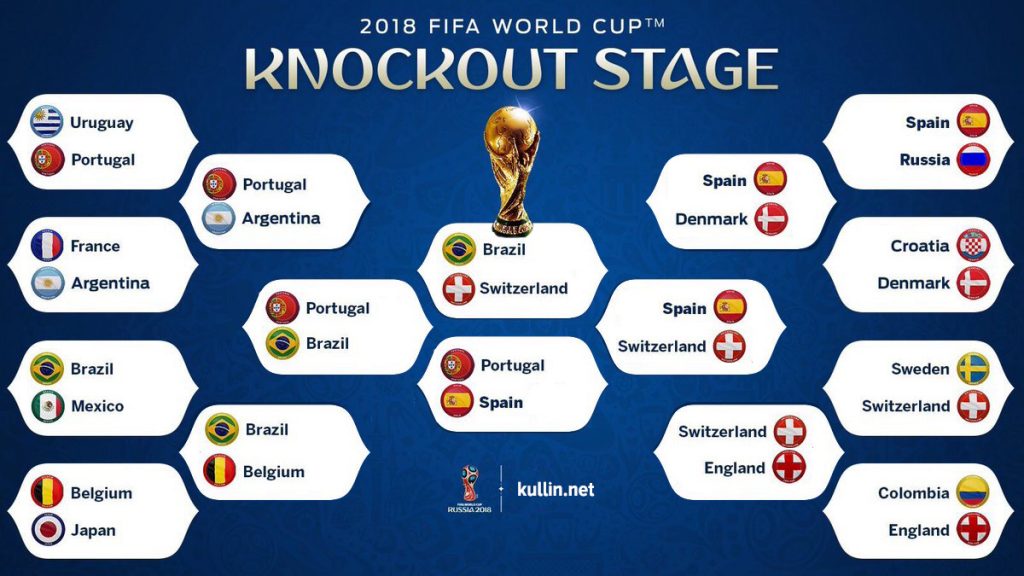 Starting tomorrow, we will know which teams will advance and possibly make it all the way to the World Cup Final.