The last few days have proven once again that open social media spaces such as Facebook pages and corporate blogs are becoming targets for disgruntled consumers or activists all over the globe. My recent posts covered how fans of Saab fill the Facebook wall of GM with negative comments and pictures. A week earlier, US appliance store Lowe's Facebook page got more than 9,000 comments from people aggressively debating whether the company was right to pull its ads from the reality show All American Muslim.
Nescafé and #nescafail
The latest example comes from Hungary, where the local Facebook page of Nescafé came under siege. The company arranged a competition which asked people to send an idea for a project. Janos Szolnoki asked for some help from the community on the popular website 9gag in order to win the contest and win $5000, so he could help his little brother who is disabled. He gained an incredible 47,000 likes to his entry, but Nescafé still didn't pick his entry for the final round (actually in line with the contest rules, but still…). This angered the online community that started tweeting with the hashtags #nescafail and #scumbagcafe. A Facebook page called Occupy Unfair Nescafé was launched and the local Hungarian Nescafé Facebook page was swamped with comments. Nescafé eventually responded, and did so quite well in my view.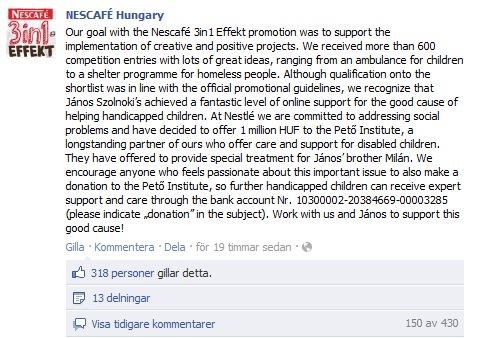 More about this story here and here.
Chiquita delete negative comments
Yet another Facebook page that is under fire is the page of Chiquita. The company has announced it is boycotting oil from Canada's oilsands, which has led to a counter-attack from Canadians arguing their oil is "ethical" in comparison to the oil from countries like Iran and Saudia Arabia. A campaign called Chiquita Conflict is using websites, Twitter and more to fight against the decision by the banana brand. Two Ministers of the Canadian Parliament have even tweeted about the reverse boycott.
A part of the campaign is to comment on the Chiquita Facebook page, which does not let anyone post on the wall, you can only comment on updates by the brand itself. Comments criticizing the company are being deleted after only a few minutes. Here are some exampels I managed to catch.
Negative comments to this post:
These comments were soon deleted:
Then a new negative comment was posted, but then later deleted:
Chiquita may not convince Canadians to buy more bananas, but by being extremely clear what they expect from visitors to the page, they at least have guidelines to lean against when they delete comments. Chiquita maintain tight control over the Facebook page. I'm not saying it is the perfect solution – what they gain in control, they lose in interactivity. But at least their page doesn't look like GM's.
From the Chiquita Banana Page Rules:
"We love it when our fans leave comments, photos, videos and links about Chiquita brands and products. Administrators will review page content to ensure that there are no offensive, inappropriate, or unrelated items and will moderate or remove content that is not in compliance with our terms and conditions."
Facebook pages have become the new battleground for brand activism and brands will face more challenges as more consumers are realizing the power a few thousand comments can have on Facebook. Brands must pay attention and make sure they have their house (and guidelines) in order before disaster strikes. There's no need to panic if you are well prepared, even if you become the subject of a social media crisis.
Hat tip to Markus Welin about Nescafé: http://twitter.com/#!/markuswelin
Update: One problem with monitoring negative comments is that the Facebook page administrator sleeps at night, but (some) activists are awake. And they take advantage of that fact. These comments have been up on the Chiquita page for 6-10 hours: