Ever wondered if those sponsored accounts or tweets on Twitter pay off? Well, here are some fresh numbers from Amtrak, the US passenger train service operator which started using Twitter's Promoted Accounts ad placement on April 12. At that time the @Amtrak account had 10,000 followers and added between 20 and 60 new followers per day. With the ad on Promoted Accounts Amtrak started gaining a lot more followers, as you can see by the graph below.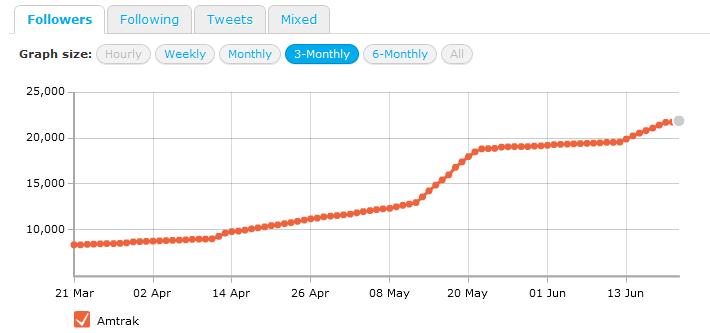 According to the article, Amtrak tracked 8,000 new followers from the Promoted Accounts campaign. The company also tried the Promoted Tweets ad placement and today boasts some 22,000 followers.
It is not clear from the article when Amtrak used Promoted Tweets (it says during last month) or if they ran the two campaigns simultaneously at some point. It would have been interesting to see which type attracted the most followers.