It is not uncommon that brands suffer serious backlashes on social networks for controversial or offensive campaigns, tweets or Facebook posts. Sometimes the damage to the brand is minimal, but a local issue can quickly damage a global brand. Here's one fresh example from Subaru in Dubai.
Last Thursday, four people were killed in a car crash on the Shaikh Zayed Road in Dubai, among them a nine-month-old baby. The driver reportedly stopped in the middle of the road due to a flat tire instead of pulling over to a safer place on the side of the road. Another vehicle smashed into the car killing four people.
Real Time Marketing gone bad
In an attempt to use the incident in its marketing, Subaru Emirates in Abu Dhabi posted a status update on its Facebook page with the following message.
"Women driver at it again.

An entire family has perished as a result of a grave mistake by a lady driver on SZR this weekend. A Jordanian woman parked her car right in the middle of the road on Sheikh Zayed motorway after it suffered from a tyre puncture. She ignored the driver's warning to take her car off the road and fix the tyre on the hard shoulder area.

Unfortunately a driver who was passing through that area had warned the woman to instantly take her car off the road but that she did not listen.
Call it her ignorance, 4 innocent soul paid with their life including a 9-month-old baby boy. Another woman in the car was said to be seriously wounded.

Well RTA cannot put in extra parameters for women to check their presence of mind during crisis situation while driving, its all about being responsible drivers."

The post blaming the driver's gender and nationality for the accident caused an uproar among local Facebook users and the post was taken down the day after. Subaru Emirates also posted a somewhat backhanded apology on Facebook:
"Dear Readers,

A recent post on our Facebook Page offended the sentiments of a number of people.

Our sincere apology goes out to everyone for this.

We respect your sentiments and have taken down the post with immediate effect.

At Subaru, SAFETY IS OUR TOPMOST PRIORITY AND CONCERN.

The news posted yesterday was intended as a general awareness message. Sometimes with the best of intentions a final communication may come out wrong. This was one such instance. We just want to bring to everyone's notice to please be more cautious while driving.

Our sincere apologies once again."
Local crisis becomes international crisis
But the social media blunder dit not only hurt the brand locally, comments soon flooded the US Subaru brand page on Facebook were several people reposted the offensive post, forcing Subaru of America to respond and take action.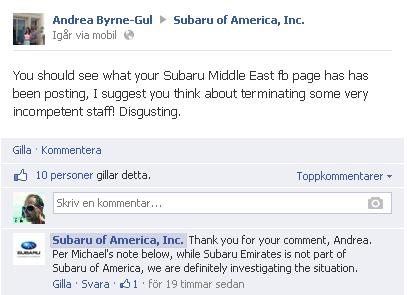 This case shows how important it is to respond to social media crises quickly and in a manner that doesn't initiate further criticism. If you don't, there is a real risk that the issue will spread more widely. It also goes to show that the concept of using current news stories for brand marketing easily can backfire.