Earlier this year I wrote a series of posts about how the Facebook page of a brand easily becomes the first property to come under fire in a social media crisis. If you have the time, at least read the last concluding post of the four below.
Another example of a Facebook brand page under attack is currently unfolding before our eyes as I write this. Yesterday, a film called "Big boys gone bananas" aired on Swedish television. It is a follow up to a documentary about a case in which Dole was on trial for using a banned pesticide in Nicaragua. You can see the trailer to the film "Bananas" by Swedish film maker Fredrik Gertten here below. Dole Food Company did everything in their power to stop the film "Bananas" from being distributed and that process is what "Big boys gone bananas" is about.
Not surprisingly, when a film like that is aired, there are reactions and mainly on the Facebook page of Dole which is currently being filled with angry comments from (mostly) Swedes. Whether Dole will remove these comments or answer them remains to be seen, so far there has been no reaction at all from the company. Keep watching.
Footnote: the film "Big boys gone bananas" is mostly in Swedish, but interviews and parts are in English. You can watch the film here (only visible in Sweden, it seems), one month from today. http://www.svtplay.se/video/245806/big-boys-gone-bananas
Update: Dole is apparently deleting the negative comments on the Facebook page. Here are some that I saved from a few hours ago.
Here are some comments that are still up, probably because they are comments to one of Dole's own status updates and have not yet been discovered: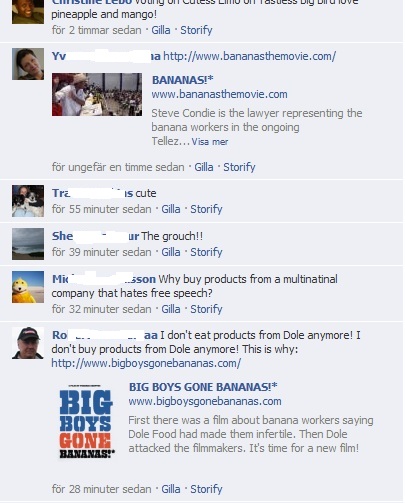 Of course a company may delete content from its page that is in violation to the community guidelines or the comments policy. The question is if these are. This is what Dole's policy states:
General community "rules for engagement" include banning or deleting any content or posts that are:
• Abusive, defamatory, or obscene
• Fraudulent, deceptive or misleading
• In violation of any intellectual property right of another
• In violation of any law or regulation
• Solicitation of charitable organization or business
• Advertising for personal business or other
• Otherwise offensive (including spam posts, such as chain letters, videos, photos, and links)