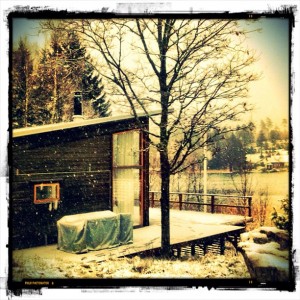 Yesterday I posted my 200th photo on the photo sharing app Instagram. I have become slightly addicted to Instagram and enjoy sharing photos that I adjust with different photo filters, as well as looking at the amazing images published by other users. Now, there's an easy way to create a background image for your Twitter account, either from your own Instagram photos, or from other people's photos. Just go to InstaBG.com and authorize the app. Then you can create an image from your own feed, from another user's ID, a category or a tag.
You can choose size of the photos, order them by date, popularity or random order, and it is even possible to let the app auto-update the image daily with the latest Instagram photos of your choice. From what I can see, InstaBG takes the 48 latest photos from the stream you have chosen.
I added my photos to my Twitter account. The only problem I had was that it was not possible to upload a background image that was as large as 2.006 pixels wide so I saved it to my computer, then scaled it down to about 1.500 pixels wide and uploaded it manually, which was ok. If you also experience this problem I assume that the auto-update feature will not work properly.
Update: It seems that some are having trouble uploading the image via InstaBG (probably the image is too wide). But it is quite easy to save it to your computer, scale it down to about 1.500 pixels and then upload it yourself via Twitter.com.